Hi, my name is Purnima and I am a creative art enthusiast based in Coventry.
My Arts and Crafts career began in 1998 when I decided to leave a career in banking in order to pursue my passion. I have an Adult Education Teaching Certificate and currently teach a variety of artistic subjects, such as watercolour art, graphite pencil drawing, coloured pencil work, botanical art and parchment craft.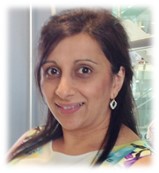 Since the 2020 lockdown, I had to find a socially distant way to reach out to my learners and watercolour enthusiasts. As a result, I set up a YouTube channel and Instagram page ArtbyPurnima, which has continued to grow in popularity. I have also set up online craft courses via Zoom.
This new Online platform enables learners to enrol on structured classes in a safe environment. Learners can log in on their computer/ mobile devices via a link, which will enable them to actively watch and participate in a live project. This approach encourages collaboration between the students and allows them to provide real-time feedback.
I am really excited to have the opportunity to create with Lavinia's beautiful Stamps and hope that you will be inspired by my watercolour creations.