I always work with lightest to darkest colours, using the lighter colours for the background.  If you go too dark, the stamped image will be harder to see. 
I dry over the stencil first and then lift and dry underneath.  This keeps the paint from underneath from collecting and looking muddy. 
Don't worry if the stencil image is not totally clear.  It is not going to be.  If you want more definition around certain areas of the stencil, using an Aqua brush or a damp paintbrush, pick up colour and add to areas to accent or define.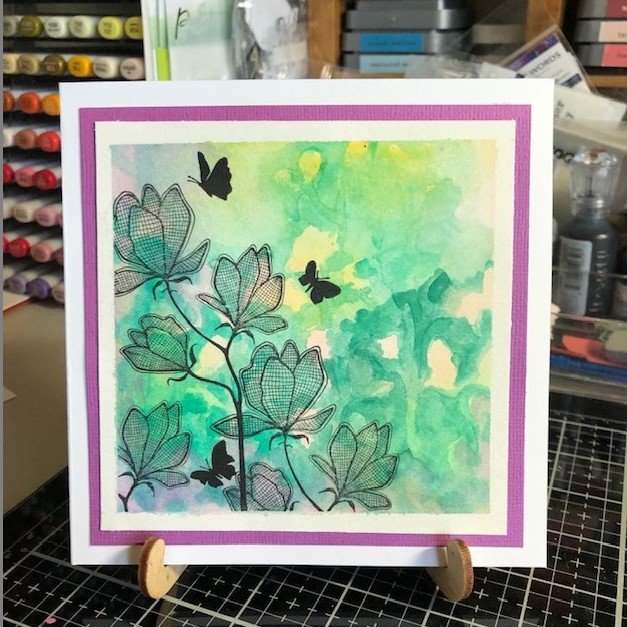 You can also use a clean wet brush to help blend colours into each other and remove paint lines. 
It is very important to dry layers before adding the next layer.  If you don't have a heat tool, a hairdryer works well.  If you use an embossing gun, don't get too close to the paper as it might scorch. 
Some watercolours will leave a slight film over the black ink of your image.  I take a very fine-tipped marker and will go over larger areas. 
The Products I used…
Watercolour paper
Stencil or stencils
Light tack masking tape
Aqua pen or paintbrush
Watercolour paints
Stamps – Lavinia
Permanent or Pigment Ink. 
Water spray bottle
Flat surface for mounting paper
Heat Tool
The Steps in creating the card
(click on the first image to view as a slideshow)
Cut watercolour paper to size.  Using masking tape, tape off a small border around the card onto a flat surface. This will give the card a nice border.  You can trim off if you don't want the broader in the final piece.  I tape the paper down to keep it from buckling.  For my surface, I repurposed an old clipboard. This also lets me rotate the piece easily as I am adding colours. 
I hope you enjoyed this tutorial and will give it a go
Stay safe
Annie x